Local Community Medical Services
Medical volunteer service based on the true healing art of medicine and spirit of volunteer!
CUDH cooperates with dental college and has continued the medical volunteer service every year.
We have formed a close relationship with local community based on our service and volunteer work. .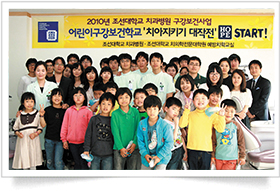 Free facial deformation surgery(yearly project)
CUDH volunteer team has conducted free facial deformation and cleft lip for patients who are unable to receive surgery due to financial problem in Gwangju and Chonnam region since 1994(December).
Cleft lip refers to patients who are born with innate broken lip. This is huge mental and financial burden to patients and their family. The volunteer team conducts free surgery every year and gives hope to patients.
Business outline

Since 1994, with sponsorship of Chosun University, we have conducted free surgery for patients with cleft palate who were unable to receive surgery from financial problem around Gwangju and Chonnam region.
Selection of recipient

Targeting patients who were not treated due to financial problem in Gwangju, Chonnam region, review the documents and evidence for selection and include patients from other regions if necessary.
Free clinic for children in rural regions of Youngnam, Honam (yearly project)
CUDH has conducted free clinic by inviting 60 children living in rural regions of Youngnam and Honam since October 1994.
Business prupose

By opening free dental clinic for poor children in rural regions of Youngnam and Honam, we improve public health, let children experience urban culture and industrial facility as a part of college volunteer service.
Business contents

Invite 60 children from rural region annually. Install welcoming camp for children to share dreams, encourage them to grow as healthy children.
Multicultural family medical service (yearly project)
We provide free medical service for multicultural family, senior over age 65 recommended by Gwagnju and UNESCO Gwangju, Chonnam Association.
Children oral hygiene school (yearly project)
It is a oral hygiene education developed to promote oral health project of Gwangju local children center, we invite children from the children center to educate with topics of oral hygiene and medical service.
Bitgoeul Senior Health Town medical service (yearly project)
We conduct medical service targeting seniors visiting Gwangju Bitgoeul Senior Health Town.
Nursing house medical service (yearly project)
We conduct medical service in nursing home and facility for the disabled in Gwangju and Chonnam region.
Mobile dental care bus volunteer service
For those who are unable to visit medical institute such as seniors, children from low income family or the disabled, we started mobile dental care bus with the help from Gwangju-si for effective volunteer service.
Since July 13, 2012, the mobile dental care bus runs around the city twice a month to provide dental care services including scaling, dentures and orthodontics, Filing teeth groove, fluorine coating and dental care education and experience center.
Free dental treatment in Yeosu Gyeongho Elementary School.
We conducted free dental treatment for students and teachers of Gyeongho Elementary School located in Chonnam Yeosu-si Gyeongdo island on June 9, 2004.
Free dental treatment in Jangheung-gun Gwwansan-eup
To celebrate sisterhood with rural farmland, we conducted free medical service volunteer work in Jangheung-gun Gwansan-eup Bangchon community center on July 21, 2005.
Total 7 medical staff including Ho Gil Hwang, the head of treatment attended the volunteer work. They treated cavity and extracted teeth targeting seniors, and provided information about dental disease which received good response.
Free dental treatment in Gwangju-si Gwangsan-gu Pyeongdong Middle School
We conducted free dental treatment and education targeting students and local residents of Gwangju Pyeongdong Middle School on July 1 2006, and again on April 5, 2007 targeting 80 students, teachers and local residents to celebrate the national public health day.
Medical service celebrating national gum day
Every national gum day(Mar 24), we invited multinational immigrant women from 9 countries to examine their gum, and provide free treatment such as scaling and toothbrushing education.
Other medical volunteer service
We conduct visiting medical service for minority group in Gwangju.