Oral&Maxillofacial Surgery
Oral&Maxillofacial Surgery
Introduction

Department which is expertise in surgical treatment on oral(mouth) and mandibulofacial(jaw and face) part

Call

+82-62-220-3810~2

Oral and Maxillofacial Surgery is a department of dental clinic conducting etiology, diagnosis, surgical treatment and additional treatment regarding the innate or acquired disease, loss occurring on mandibulofacial and jaw bone related tissues, and conducting researches. This field includes artificial teeth(implant), surgery, tooth extraction, pre-prosthetic surgery, inflammation, bleeding, cystoma, maxillary antrum disease, tooth and bone transplant, damaged face and tooth, bone fracture, temporomandibular joint, cleft lip(cleft lip and palate), facial deformation, oral cancer, salivary gland.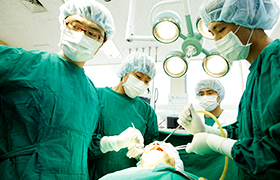 Oral tumor and cystoma

As oral and maxillofacial areas are divided from various original cells, diverse types of cystoma(cyst), benign tumor and malignant tumor(cancer) occur. Based on the size and location, the tumor is removed under general or local anesthesia, and it must be checked occasionally. In addition, the public interest toward oral cancer is increasing. Basically, oral cancer must be diagnosed and treated in oral and maxillofacial clinic, which provides surgical removal, chemotherapy and radiotherapy on cancer.
Cleft palate

Considering orthodontic and prosthetic problem due to deformed tooth, eruption disorder, difficult chewing and deformed alveolar bone and upper jawbone, and other aspects of jaw correction surgery, it is the best for oral and maxillofacial is the best option to treat for the optimal quality treatment of the patient.
Salivary gland disease

The salivary gland disease is categorized into inflammatory disease and tumor. Inflammatory diseases include bacterial, viral or occlusive sialadenitis. Most of them are frequently found in submaxillary gland(mandibular gland) and are treatable with drugs. However, serious cases with inflammation or salivary stone are treated surgically. In addition, there are surgical cases due to benign or malignant tumor on salivary glands. Xerostomia is often found to old patients due to shrunken salivary glands or hypergia.
Orbital hypertelorism

Due to growth gap between upper and lower jaw, it can cause lantern jaw, small chin, short chin or overjet. In addition, because of craniofacial syndrome, it can cause abnormal shape, function or growth of mandibulofacial structure. Oral and maxillofacial surgery treats these patients in accordance with growth stage, and as most of the hypertelorism patients have abnormal growth of upper and lower jaw, it is highly possible that they have abnormal jaw relation requiring orthodontic treatment before surgery. In addition, the medical team consults with orthodontists before surgery to sufficiently reflect orthodontic problem in surgery.
Dental maxillary sinus disease

Due to upper jaw teeth, it might cause dental maxillary sinus infection. Causes of disease include acute or chronic infection of root apex from dental caries and injury, complication from tooth extraction or maxillofacial fracture, complication from alveoloplasty with osteotomy, dental disease and dental maxillary sinus related disease. In case of maxillary sinus infection, the cause must be accurately verified for appropriate treatment, and this might require consult from oral and maxillofacial surgery and otolaryngology.
Jawbone fracture

Jawbone fracture is the most frequently occurred injury in maxillofacial area. Many of the cases are caused from car accident or industrial accidents. Recently, the intermaxillary fixation period has been shortened by fixing with metal board under general anesthesia, and patients can immediately do jaw-opening motion.
Dental infection

Inflammatory disease of oral and maxillary surgery occurs due to germs inside mouth, root apex lesion, and periodontal disease as a very important area. People care less about the dental infection as they believe it does not affect life, but as it is closely related to cephalic and anatomical weakness with many gaps, it might cause complications such as respiratory obstruction, blood poisoning or mediastinitis and cavernous sinus thrombosis and lead to fatal results if there is no immediate and proper treatment. Thus, it requires proper diagnosis and immediate treatment.