Orthodontics
Orthodontics
Introduction

Department which straightens set of teeth and creates beautiful face

Call

+82-62-220-3870~2

Treats malocclusion such as projected tooth, and improves overgrowth, slow-growth or asymmetry of lower jaw by orthopedic treatment and surgical treatment for increased oral function and esthetics.
For orthodontic diagnosis, it requires three dimensional jawbone and a set of teeth analysis, and the orthodontic treatment plan is established based on the analysis. As for the method, there are general labial technique attaching the device at the outside of teeth, lingual technique attaching the device inside teeth to make it invisible from outside.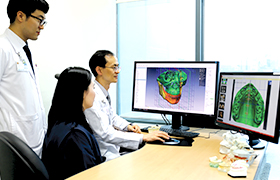 Orthopedic treatment

If patients suffering from deciduous dentition or mixed dentition show skeletal mismatch of growth of upper and lower jaw, the orthopedic device is used to control the direction and amount of jaw growth. By controlling the growth ability of the patient in growth phase, skeletal mismatch such as lantern jaw, small jaw and facial asymmetry are corrected.
Adult orthodontics

Adult patients are given dental camouflage treatment such as straightening set of teeth, improving esthetics or moving teeth for skeletal problem. If teeth are tangled, or lips are bulged out, and the patient wants to push the mouth inward, it might require extraction of several teeth.
Surgical orthodontics

Orthognathic surgery is also named as surgical orthodontics. After orthodontist properly locates teeth through correcting treatment, oral and maxillofacial doctor relocates upper or lower jaw bone through surgery. The jaw surgery is closely related to occlusion of teeth. As the surgery affects jaw bone exercise, it must be conducted under close cooperation between orthodontist and oral and maxillofacial doctor. In other words, jaw surgery is not a simple esthetics plastic surgery but a functional surgery including various elements.
Maxillofacial deformity

Facial deformity is mostly due to congenital causes, largely genetic factors, or intrauterine problem, fetal injury or condylar agenesis. There are acquired causes such as trauma, infection, malocclusion, ankylosis of temporomandibular joint, hyposiagonarthritis. There are various methods used for classification. However, as for a simple classification, if the excessive or less growth of upper, lower jaw, it causes upper, lower jawbone prognathism and retrognathia, mostly appearing as lantern jaw. Other than them, there are apertognathia facial asymmetry where there is a huge gap between upper and lower teeth. Abnormal development of facial bone could cause personality problem such as sense of inferiority or emotional disability due to physiognomy, or functional disorders such as chewing and pronunciation disorder.
Lingual orthodontics

Lingual technique is an efficient method of hiding the orthodontic device. By attaching the device inside the teeth, it is invisible from the outside. As the device is invisible, it is very famous among adult patients. However, it takes longer than device attached outside teeth. However, due to the recent technical improvement, the period has shortened. Of course, it could cause inconvenience of tongue or pronunciation problem. However, if patients can adapt to the feeling within two or three months, it is not a serious problem.