Conservative Dentistry
Conservative Dentistry
Introduction

Department which maintains functional and esthetically healthy oral condition through preserving teeth.

Call

+82-62-220-3840~2

Conservative dentistry helps patients maintain functional and esthetically healthy oral conditions by preserving teeth.
The department is composed of two fields of medicine.
They are restorative treatment diagnose and treat soft-tissue damage disorders such as dental caries. The purpose of treatment is to replace the damaged teeth with artificial materials to recover masticatory function and esthetics. In addition, by using restorative materials in esthetic color of teeth, it can conduct teeth whitening, odotoplasty and smart tooth treatment at the same time. Root treatment is a method treating pulp or root apex which is in charge of endodontic treatment. In addition, if non-surgical endodontic treatment is unavailable, the root apex micro surgery, intentional tooth replantation, or tooth autotransplant using microscope is used to treat as a very significant part of preserving tooth.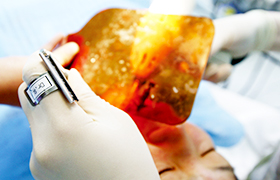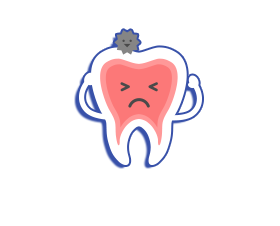 Dental caries

Dental caries is an inflammatory viral disease caused by dissolved and damaged part of dental calcification tissue, Gelatin-formed microorganism attached on the surface of tooth is called plaque, and the plaque germs digest refined carbohydrate to get energy and make organic acid. The acid dissolves structure of teeth and create caries. Dental caries is treated differently in accordance with its conditions and locations. Initial dental caries is treated with fluroine coating and sealant, while severe caries is treated with resin, glass ionomer, amalgam and inlaid gold. The dental caries that are close to pulp are treated by root treatment and do crowning.
Cervical abrasion

As a V-shaped dent created cervical part, there are many cases where patients often complain teeth hurting. The cause of disease is wrong toothbrushing, or curve of teeth when chewing. It is treated by restoring the lost tooth with resin or glass ionomer.
Odontoclasis

If excessive amount of force is put on tooth, it might break the tooth. The odontoclasis cases are various, and in serious cases, extraction is the only method, but if the damage is minor, it can be treated with resin restoration. Once the tooth is broken, you must visit hospital immediately to get diagnosis and treated through radiography and clinical examination.
Tooth discoloration

For minor discoloration in one or two teeth, it is highly possible that the patient had restoration or root treatment, or pulp (live tissue inside teeth known as the nerve) is dead due to cavity or trauma. Meanwhile, if the discoloration is on entire teeth, it might be related to internal or external cause. For external cause, there are bacterial discoloration, tobacco, tea, coffee, or gum bleeding, and as for the internal cause, there are hemoglobin disease, odontogenic imperfect, and excessive ingestion of fluorine. The treatment varies based on causes. For partial discoloration, it is treated with root treatment and bleaching, and, for entire discoloration, the external cause is removed while performing daily teeth whitening(night guard etc) for effective treatment. Meanwhile, for internal cause, it is hard to be treated with general whitening, and it requires laminate or porcelain laminate veneer treatment.
Tooth shape anomaly

There are various types of innate tooth shape anomaly such as fused teeth, geminated teeth, megalodont, microdont, dens in dente, and dens evaginatus. Causes of visiting hospital for most of these cases include esthetics, which can be improved with esthetic restoration after proper diagnosis.
As for the dens evaginatus, there can be pulp tissue with projected enamel, and might expose pulp that requires regular examination and preventive procedure. Other than them, regional odontodysplasia might cause abnormality in tooth shape.
Pulpitis

ulpitis is found when the pulp located inside teeth are contaminated due to severe dental caries or other causes. The symptom varies from minor to serious pain. The reversible pulpitis can be recovered by simply removing the cause. However, for serious inflammation, it requires root treatment. Root treatment removes inflammation and necrosis part and disinfects and fills in the part with disinfected material. The teeth must be crowned as it is weakened.
Root apex disease

The inflammation in pulp can be spread to tissue surrounding teeth through the root, It is mostly treated with root treatment, but might require root apex surgery by cases.