Oral Diagnosis&Oral Medicine
Oral Diagnosis&Oral Medicine
Introduction

Department which enables reasonable non-surgical treatment for oral and maxillofacial part disease due to whole or local cause.

Call

+82-62-220-3890~2

Oral medicine enables reasonable non-surgical treatment for oral and maxillofacial part disease due to whole or local causes.
Especially, the clinic provides latest examination and treatment technique to patients with orofacial pain and oral soft tissue diseases like mandibular disease, it enables recovery of oral and mandibular part, and smooth living.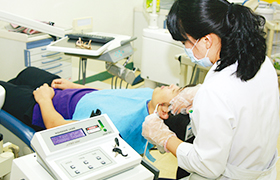 Forensic odontology and valuation

Forensic odontology office is in charge of forensic odontological valuation and research, soft tissue and bone tissue valuation and research, reconstruction of facial feature, valuation and research of super impose law. If an unidentified body has no registered finger print, if the body is left with only bone, or if the body is damaged, the office uses collected data for various cases to guess the gender, age, unique disease in bone, height, childbirth record to identify the body and provide fundamental data. It takes charge of tasks such as assessing age, individual, body assessment, coroners' inquest, disorder diagnosis and military affairs.
Stomatosis diagnosis

Stomatosis is closely related to general disease, and its symptom comes first in most of the times. The oral medicine clinic diagnoses, treats and discovers the disease in early stage based on oral symptom, induces to receive proper general care, and contributes to increased treatment effect and prevention of disease. In addition, it makes diagnosis for salivary glands disease including various diseases and dried mouth in soft tissue including tongue, and provides proper treatment.
Temporomandibular disease

Temporomandibular refers to joint in front of ear where low jaw bone and skull meet. This joint is very important as it serves as a role of lever for numerous mandibular movement. Temporomandibular disorder is a disorder on temporomandibular in front of ear. It is commonly named as mandibular disorder, and it mostly refers to derencephalus pain including headache, and also called as infratemporal disorder. Patient cannot remember when there was sound in temporomandibular, but suddenly one cannot hold one's mouth or close mouth after yawning, or even suffers from chronic headache. Patients often misunderstand this symptom with other joint or disc problem and go to see orthopedics or neurosurgeon. They go to see internal medicine doctor of neurosurgeon due to symptoms such as headache, neck and shoulder pain, dizziness, ear problem, ear pain, ear noise and other various symptoms.