Greetings from CUDH President
Sharing Values, Moving Forward Together
Welcome to Chosun University Dental Hospital (CUDH).
I would like to begin by thanking you sincerely if you have visited the CUDH website.
Since the founding of the CUDH in 1978, and as the first university dental hospital in the Honam area, the CUDH has put great effort into the implementation of its mission: to provide oral health care through kind and excellent clinic service.
As a national pioneer in initiating the era of digital dentistry, CUDH is taking the lead in patient-oriented smart treatment by installing a digital clinic system. CUDH was the first dental hospital in Korea to install the Picture Archiving Communication System (PACS), Electronic Medical Records (EMR), and Dental Cone Beam Computed Tomography (CBCT) in 2005. We completed the project on the Advancement in Business of the Integrated Medical Information System in 2014. In addition, CUDH obtained a Healthcare Organization Accreditation from the Ministry of Health and Welfare for outstanding recognition in the highest quality of medical services and patient safety management. As you can see, CUDH has become a trusted dental hospital by providing the best medical services that put patient safety first.
As well, CUDH aims to provide and practice visiting medical services. CUDH performs mobile dental clinical services for people who can't access or afford oral healthcare in the local community. We also make significant contributions to improving oral healthcare in the global community; to those unable to access oral healthcare services.
CUDH would now like to return the long-term faith and trust it has earned. We hope to continue to gain renown as a dental hospital that designs and shares values together for a better future. We plan to accomplish this current aim by the following:
▲ Strengthening patent-oriented dental services by simplifying the treatment process
▲ Creating standards as a global brand hospital based on education
▲Establishing an eco-friendly management system for patient safety and quality management, and finally by
▲Building a communication platform: through support for low-income families, and contributions to culture
We promise to do our utmost to continue to do our best to be a dental hospital that connects with patients. Our 40-year history of faith and trust means we are ready to accept any challenges we face over the next hundred years!
Thank you very much.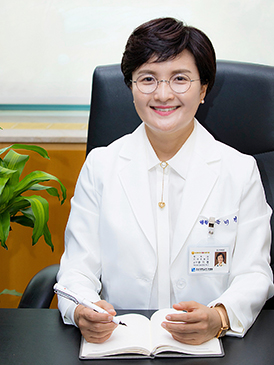 Chosun University Dental Hospital President
DDS, MSD, Ph.D.Mee-Kyoung Son